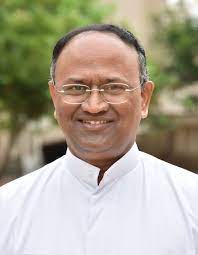 Dear Teachers, Parents, Students,
Cordial greetings from Don Bosco, Matriculation Hr. Sec .School, Egmore, Chennai.
I am Fr. Xavier Packia SDB, your new Rector and Correspondent. Even though I took charge several months ago (in June 2020), because of the COVID-19 restrictions, we have not been able to meet each other in person yet. Therefore, it is with great joy that I make use of this opportunity to address you through this letter. Here I would like to share with you my vision for the school, and invite all of you to see what we together can do to maintain and promote the Don Bosco educative culture, both in our school and in our homes.
Dear students, the past few months have been a real testing time for you. The pandemic has thrown out of gear the usual rhythm of class, study, exam, and a whole lot of campus activities, which you love so much. The online classes were the best we could think of, in the given situation, but they aren't a worthy substitute for the far richer experience of learning through a wholehearted participation in campus life. At the school, we the management and staff miss you very much and we long to see you back. You are the heart and soul of this institution. Everything that exists here has meaning only in reference to you. Without you, the classrooms have become mute, the corridors look forlorn, and the playgrounds appear desolate. However, we are sure; they will all spring back to life at the first glimpse of your smiling faces and the familiar feel of your lively footfalls!
Dear Parents, we all know that the school alone cannot address all of a child's academic and developmental needs; a strong partnership between the school and the family is essential for successful education. You dear parents are our closest partners in this sacred task. We are extremely happy to see parents taking trouble to follow up their children's progress at school. We welcome, encourage and appreciate regular parent-teacher (home-school) communication and interaction. It will enhance the quality of our service, and ensure the academic progress as well as the personal growth of the children.
Don Bosco, our Founder, remains the role model for us in our mission of education. He was a teacher with a father's heart and a father with a teacher's mind and method. Don Bosco's system of education is fully equipped to bring out the best in every young person and to nurture their harmonious growth and all-round development. This system places the pupil at the centre of the educative community, which consists of all the stakeholders — the management, teachers, parents and pupils. Here no one asks, "What's in it for me?" Rather, the question will be, "What more can we do to make it even better for the students?" Their total wellbeing, their safety, security, intellectual development and the building up of their inner strengths, their character — takes precedence over everything else. In a family-like environment, through guided freedom, caring accompaniment, mutual trust, and friendly sharing, the pupils learn to discover their self-worth and develop their potentialities to the full.
The management and staff will constantly strive to deliver the best. Let us all work together in a spirit of understanding, mutual trust and with a strong sense of shared responsibility, acting always in the best interests of the students. Everyone knows we are living through difficult times. While waiting for the lockdown to end, let's not lose heart; instead, let's keep moving ahead with optimism and confidence, doing our little bit to maintain an atmosphere of peace, harmony and goodwill all around us.
Let not the social distancing distance our hearts! These are the times when we need each other most!
God bless you! Stay safe, stay blessed, always!
Yours in Don Bosco,
Rev. Dr. Xavier Packiam SDB, Rector & Correspondent